A high rate (from 17 to 20 cents) draws the attention of terminators to Mali situated in Africa. Mali has a well-developed mobile communication sector, with a population of more than 18.6 million. Penetration of cellular communications has reached 143%. In this case, you can find advantageous offers for prepaid subscribers from local operators, which allows you to get a good profit on the difference in the cost of a minute of the call.
To efficiently terminate VoIP traffic, it is worth choosing a large GSM operator to have the maximum number of calls paid off. The more international traffic a cellular company provides, the more likely it is for a terminator to terminate large amounts of VoIP minutes. Two major mobile operators operate in Mali. They are: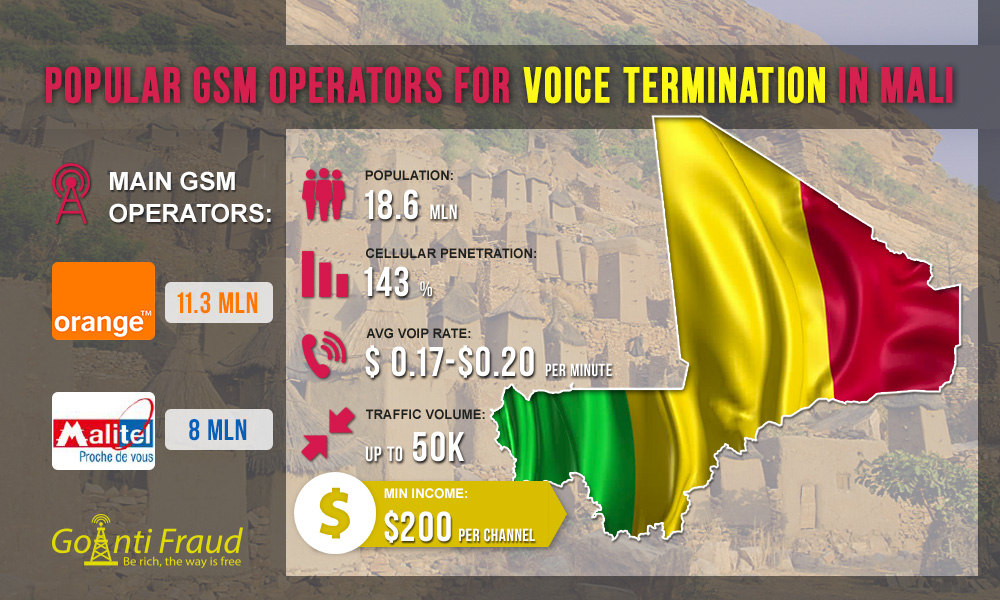 The subscriber base of Orange Mali consists of more than 11.2 million users. 99% of connections are prepaid. Malitel is the second largest GSM operator in the market, owned by the national telecommunications company Sotelma (8 million connections). There is also Atel-SA, owned by Planor-Monaco Télécom International, operating in the mobile sector.
The cost of the Orange SIM-card costs over $ 1.7, with an 85-cents credit provided instantly to your account. The tariff on on-net is $0.13 on average, depending on the time of day. A SIM-card from Malitel costs 85 cents. The operator calls it "chip C'Class". The tariff on on-net calls is $0.19, however, there are profitable bonus packages that can be used for termination.
Traffic providers offer different rates for terminating traffic in Mali. Original companies pay $0.17 for routes to terminate the traffic provided by Orange and $0.2 to terminate Malitel minutes. When you pick up a profitable tariff plan from a large GSM operator, you can earn a solid profit in Mali.