Chile has one of the highest rates of mobile penetration, which is 125%, with a population of 18.3 million. There are many immigrants from other Latin American countries, and the tourism industry is well developed. This has become a prerequisite for an increase in demand for the termination of voice traffic in Chile since it receives a lot of international traffic.
Even with a small average rate of $0.03 per minute, the terminator can get a stable income in this country. But it is important to choose the most profitable tariff plan so that outgoing calls are cheap. The largest GSM operator in Chile is Entel. It has excellent coverage throughout the country. This cellular company offers both contractual services and packages for prepaid subscribers (prepago).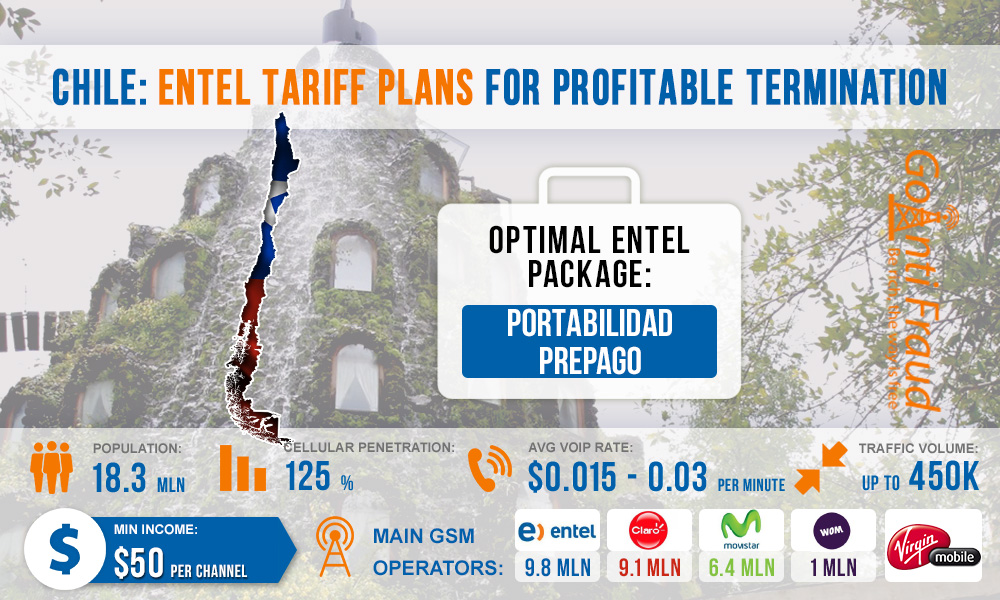 The SIM-card may cost from $5.5 to $6.3, as well as you immediately get $1.6 to your account. For prepaid subscribers, there are two main tariff plans:
Anita. It includes 2 options. The first option is to top up your account with $4 to $10 and get a 50-minute bonus. The second option is to top up your account with $10 and get a 150-minute bonus. At the same time, the standard tariff for outgoing calls is $0.16 per minute.
Carlitos. It provides the opportunity to profitably call the "preferred" numbers but this option is not suitable for the termination.
In addition, you can use the Portabilidad Prepago offer, which provides for 100 bonus minutes when replenishing the account in the amount of $1.6 within 30 days after the number is activated. Accordingly, one minute of the call will cost you as little as $ 0.01. You will make about 2 cents per minute. Therefore, if you terminate 5,000 minutes monthly, you will earn $100 from 1 channel of your equipment. Using a goip-08 gsm voip gateway, you will significantly increase your profits.