WOM is the smallest GSM operator in Chile but it provides quite good coverage and favorable tariffs for services. The subscriber base consists of about 3 million people. If you install a VoIP gateway asterisk in Chile, you will be able to get a stable profit using the new prepaid SIM-cards from WOM. But it is important to connect them to a profitable tariff plan so that the difference in the cost of international and local calls can be as much as possible.
Prepaid SIM-cards from WOM are sold not only in branded stores but also in local kiosks and markets. There are 3 options of the starting package (in Chile they are called Chip Prepago):
For $1.6. The initial balance is $1.6, plus 10 bonus minutes.
For $3.2. The initial balance is $3.2, plus 20 bonus minutes.
For $4.8. The initial balance is $1.6, plus 30 bonus minutes.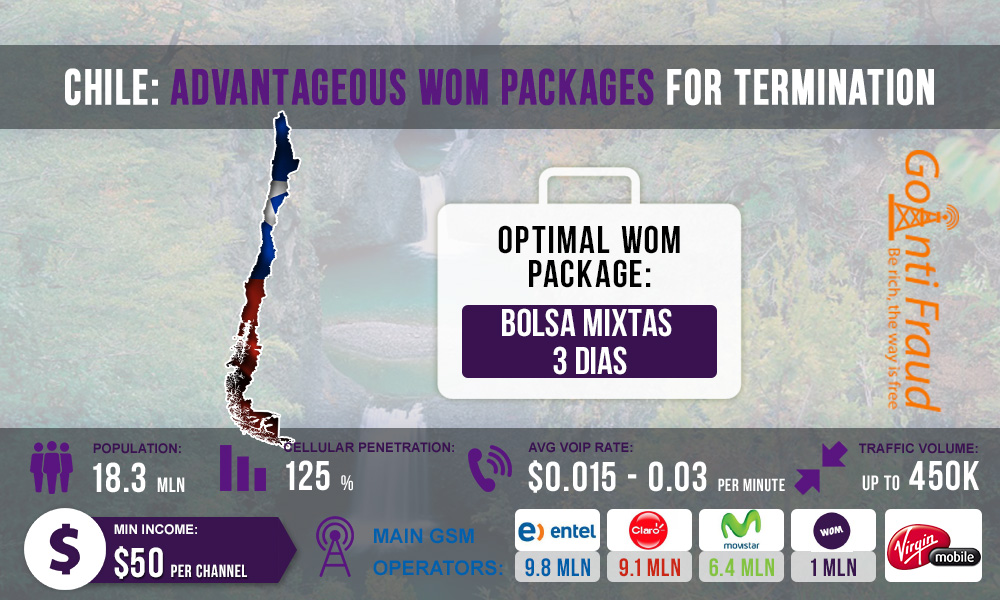 Since the amount of the initial balance is equal to the cost of the SIM-card, your business expenses on the purchase of new numbers are equal to zero. WOM provides the standard rate for calls, which is $0.08 per minute. But there are profitable Bolsas Mixtas bonus packages. They include bonus minutes and Internet traffic at a fixed fee, as well as they have a different validity period. The most profitable option is Bolsa Mixta 3 dias, with a subscription fee of $ 2.4 and 50 bonus minutes. Bonuses are valid for 3 days. There is also a Bolsa Voz offer, which provides only 50 minutes for $ 3.2.
The optimal solution for terminating VoIP traffic is the Bolsa Mixta 3 dias package. If you buy a Prepago Chip for $3.2, you immediately get the same amount to your account. For $2.4, you can connect Bolsa Mixta, plus you will have an additional 20 bonus minutes. Accordingly, the minute of conversation will be free of charge. The remaining 80 cents can be spent on another 10 minutes of calls. Terminating for 80 minutes a day, you will receive make $50 per channel. You can increase your profit if you use multichannel VoIP equipment.