The Mobily brand, which is partly owned by the international operator Etisalat, is the second cellular service provider in the Saudi market. It provides good GSM coverage in the country, as well as its subscriber base consists of more than 18 million users. If you want to terminate calls using GSM gateways in this country, it's important to choose a profitable prepaid call package.
SIM-cards are sold for 8 dollars, with $6.6 immediately going to the account. Mobily has several advantageous offers for prepaid subscribers:
Hala 19. All local calls are $0.05 per minute.
Monthly Bundles offer bonus packages that include mobile Internet traffic and free minutes for calls. There are two options: Bundle 120 and Bundle 65. When you connect Bundle 120, you get 1,200 bonus minutes for $32, when you connect Bundle 65: 650 minutes for $17, with bonuses valid for a month.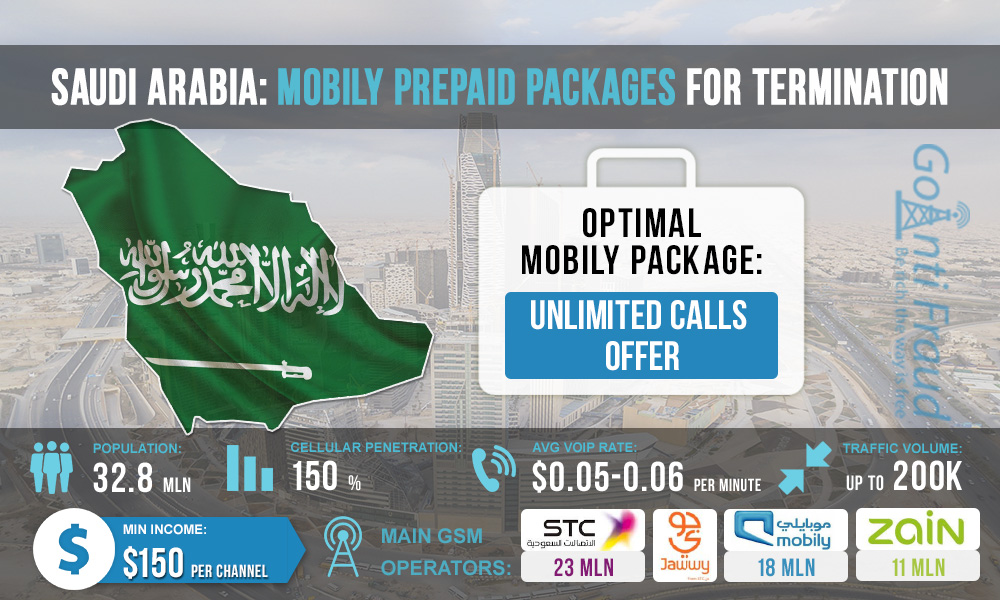 Unlimited calls offer. This is an option that offers unlimited on-net calls and is presented by three tariff plans: Daily Bundle, Weekly Bundle, and Monthly Bundle. Connecting a package for 1 day will cost as little as 53 cents, for a week - 2 dollars, for a month - $ 6.6.
Mobily Hajj & Umrah. Tariff for local calls is 13 cents per minute. In this case, bonus gigabytes of mobile Internet traffic and bonuses from 50 to 300% are available for each account replenishment.
To make money on terminating international traffic, it is better off using Unlimited calls offer. The best option of the three offered in this package is Daily Bundle since you will have time to use all the possibilities of the tariff plan before the card is blocked by the anti-fraud system. When terminating for 5 hours a day, a minute of the call via with this package will cost you as little as $ 0.001. Your minimum income from one channel of goip 1 - voip-gsm is $150. When you install multi-channel equipment, your profits will increase.