Zain is the third-largest mobile operator in Saudi Arabia. Despite the fact that it is the smallest in Saudi Arabia, it has good GSM coverage in the country and a large subscriber base, which is more than 11 million people. In addition, Zain has the lowest rates for cellular services. In order to efficiently, terminate calls using the sim box voip gsm gateway in Saudi Arabia, select the optimal prepaid package.
SIM-cards cost an average of $8 and are available both in the operator's shops and at street kiosks. There are several offers for prepaid subscribers:
KHATEER PREPAID. On-net calls and calls to the numbers of other operators are $0.05 per minute.
KAREEB PACKAGE. On-net calls are $0.14 per minute.
ZAIN MAX. The cost of a minute of the on-net call is $0.12 per minute but for every top-up, you get the bonus, which is from 100 to 500%.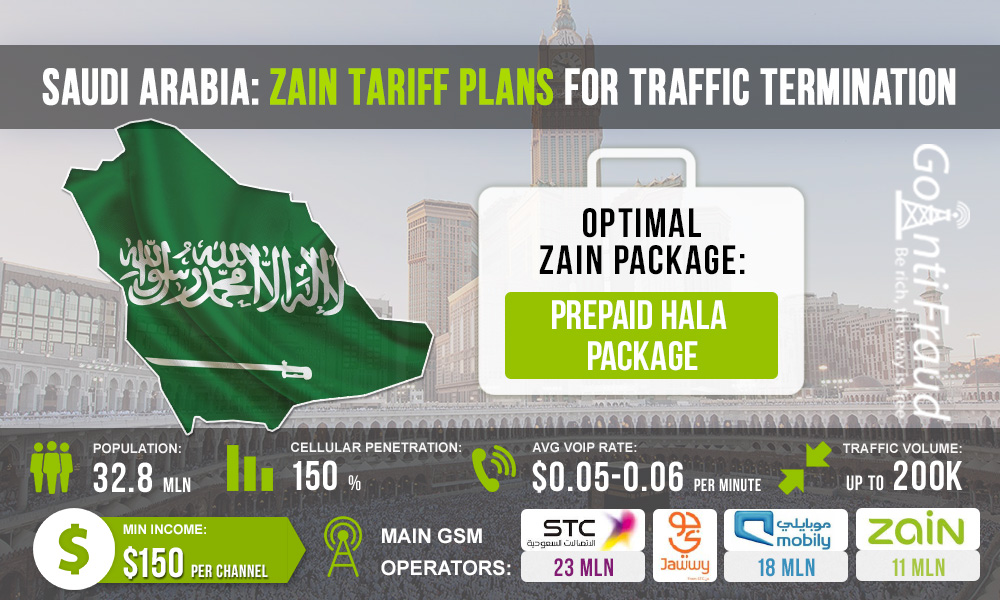 HALA PACKAGE. When you top up the account with $2.6, 200 bonus minutes are granted for 1 day. If you top up with $12, you get a 3,000-minute bonus for 7 days.
SHABAB PREPAID. For $15, the subscriber gets 250 free minutes for local calls, for $34, you get 500 minutes for local calls, for $ 66 – 1,000 minutes for calls to other networks + unlimited on-net calls.
The most advantageous option for voice termination is HALA PACKAGE. You can choose packages for 1 day and for 7 days. In the first case, you will be able to earn over $100 per channel if you terminate 200 minutes a day. In the second case, you can make $200 per channel if you terminate for 5 hours a day, taking into account the average 3-day lifespan of the SIM-card.