Entrepreneurs working in the field of VoIP traffic termination in Saudi Arabia can make over $150 via 1 channel of equipment. To get a high income, you need to choose the optimal prepaid package. To terminate calls, Friendi starter packs are perfect. The virtual operator offers advantageous tariffs. The originators are ready to pay an average of 6 cents per minute of traffic provided by Friendi and terminated in Saudi Arabia.
Friendi Mobile is a virtual cellular operator (MVNO), a brand owned by Virgin Mobile. To provide services, it uses Zain's infrastructure. The Friendi SIM-cards cost $6.6. They can be purchased all over Saudi Arabia. The subscriber's account immediately gets a $5.3 initial credit. By default, after activation of the SIM-card, a standard tariff plan is set - Friendi Prepaid. There is one more - Friendi Data SIM but it is designed only for the use of mobile Internet traffic, which does not interest us in terms of voice termination.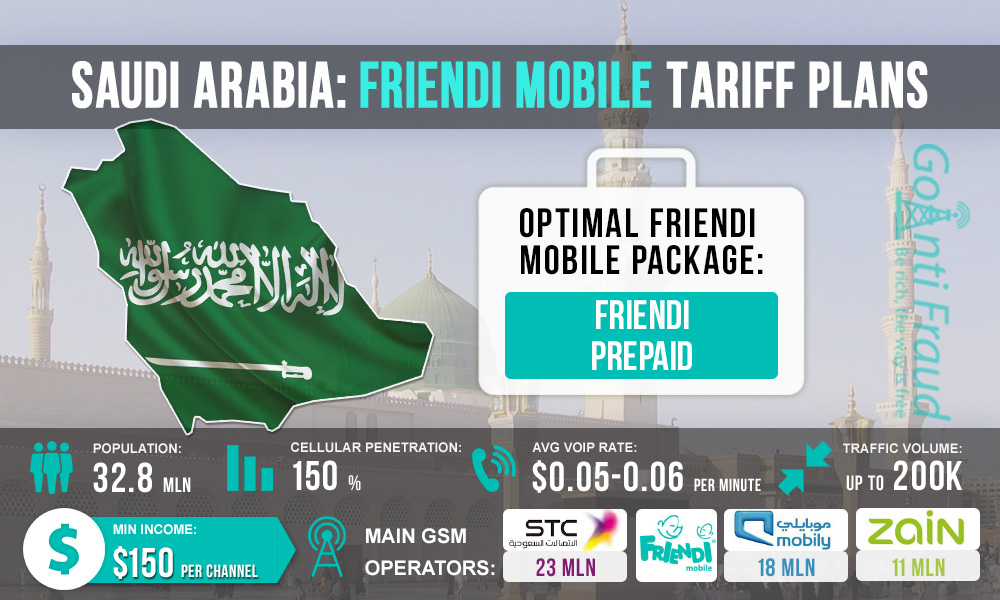 The standard rate on on-net calls and to the numbers of other operators is $0.1 per minute. However, there are profitable bonus offers for topping up the account:
For topping up with $26, you get a 53-dollar bonus;
For topping up with $15 dollars, you get a 15-dollar bonus;
For topping up with $8, you get a 4-dollar bonus;
For topping up with $ 5.3, you get a 2.6-dollar bonus;
For topping up with $ 2.6, you get a 50-cent bonus.
All the bonus money can be used for local calls. In addition, when topping up the account with $ 2.6, the subscriber is provided with free minutes and SMS. The maximum number of free minutes is 300 a month.
The best option is to buy a SIMcard for $6.6. By default, you will get a Friendi Prepaid tariff plan. Topping up with 15 dollars, you immediately get another 15 dollars of bonuses. In addition, you will have an initial $5.3 credit. Accordingly, the amount on the accountt will be about $35. It will be enough for about 350 minutes of calls. In this case, your daily business expenses on SIM-cards and calls will be as little as $16.3. Terminating 350 minutes a day via Friendi Prepaid, you can make $100 via one channel of a VoIP gateway pbx.