Virtual cellular operator Lebara exists in the market of Saudi Arabia since 2014. It operates via the Mobily network and offers profitable tariffs for calls for both local residents and foreigners. Lebara Mobile's SIM-cards are perfect for making money on termination.
The MVNO offers to purchase starter packs online, with free delivery to the specified location. To purchase a SIM-card, you must indicate your name and the number of the identity document in the online form. You can order three starter packs under one name. The cost of one SIM-card is $8, with $6.6 transferred immediately to the subscriber's account.
By default, the cost of a minute of the on-net call is $ 0.06, and $0.12 to the numbers of other operators. However, the operator offers bonuses for topping up the account. Using the Free Unlimited On-Net Calls offer, the subscriber can make free on-net calls, topping up the account with a certain amount:
$2.6 - unlimited calls within 3 days;
$6, $14 or $27 - unlimited calls within 1 month.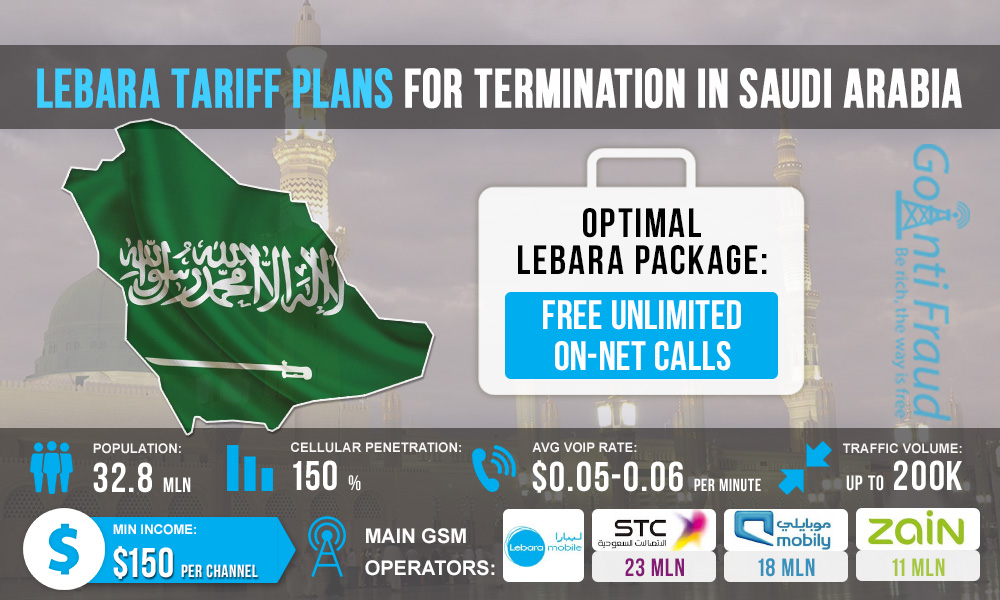 In addition, Lebara Mobile offers advantageous combined Local Pass packages that include bonus minutes and mobile Internet traffic. We are only interested in bonuses for voice communications. They are available to the subscriber for a certain fee for 30 days and can be used not only to make on-net calls but also calls to the numbers of other operators. There are Several Local Pass options available:
30 minutes for $2.7;
70 minutes for $5.3;
250 minutes for $13.3;
300 minutes for $18.6;
450 minutes for $24.
It is better off terminating via Free Unlimited On-Net Calls to get unlimited on-net calls for $2.6. With a 3-day average lifespan of a SIM-card, you can use the bonus unlimited calls before its validity period expires. Using this package, one minute will cost you as little as $0.003 if you have your VoIP sip gateways operating for 5 hours a day. If you need to make calls to the numbers of other operators, select one of the Local Pass tariff plans, according to the amount of traffic that you plan to terminate. Using the Free Unlimited On-Net Calls offer from Lebara Mobile, you can earn at least $200 via 1 channel, including the cost of purchasing new SIM-cards.