In addition to the three major GSM operators, Croatia has virtual operators (MVNO). They provide mobile services using the infrastructure of other cellular companies. To date, it is possible to name two MVNOs: Bonbon and Tomato. Their SIM-cards are affordable and can be successfully used to terminate VoIP traffic, if they are adequately protected from the SIM-lock and when the tariff plan is correctly selected.
Croatian virtual operator Bonbon uses the T-Hrvatski Telekom (T-Mobile) network. Starter packages can be bought at the company's branded stores, as well as at other outlets. In addition, it is possible to order a SIM-card online, with delivery to any European address. In T-Mobile stores, you cannot purchase Bonbon starter packages. It is better to look for SIM cards in the kiosks of iNovine and Tisak.
A SIM-card costs about $3, while the subscriber is given an initial credit for the same amount. It can be used for voice calls around the country. Cards are activated immediately, with no registration needed. Top-up vouchers are available in many shops, at gas stations, in supermarkets. They are presented in various denominations but you will also have to pay a 10% tax.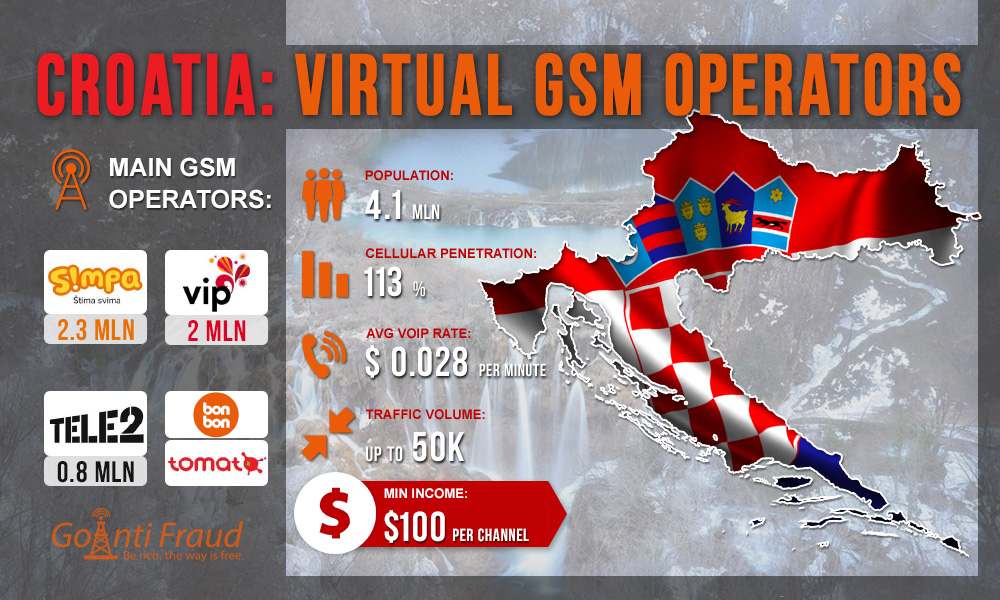 Croatia's second MVNO is Tomato, which uses the infrastructure of the GSM operator Vip. SIM-cards are sold in supermarkets, at gas stations, in post offices, and street kiosks, as well as top-up vouchers. The cost of the starter package is about 3 dollars. In addition, MVNO offers promo SIM-cards. They can be obtained free of charge by ordering online. However, one person can order only one card.
Before placing VoIP equipment and installing VoIP GSM gateway software in Croatia, take care of reducing the risks of the SIM-block. We recommend using efficient GoAntiFraud tools to mask your cards from anti-fraud systems of the operator.