Entel is an operating state-owned mobile communication service provider in Bolivia. To date, it is the leader in the mobile sector as its market share is about 45%. The operator has the best GSM coverage in the country, even in remote areas. The Entel SIM cards will be an excellent choice to make money voice traffic in Bolivia.
Pre-paid starter package from Entel costs about $4.3 and is sold in branded stores, which are called Multicentro Entel. In addition, there is an opportunity to purchase SIM-cards in kiosks on the street. For profitable termination, you need to connect the optimal tariff plan.
The Prepago lineup (offers for prepaid customers) is represented by Prepago Basico and Entel packages, which include minutes, SMS or Internet traffic. Prepago Basico provides the following rates on calls:
$0.14 per minute in the Normal period (from 7:00 a.m. to 9:00 p.m.);
$0.07 per minute in the Reducido period (from 9:00 p.m. to 24:00 a.m.);
$0.05 per minute in the Super Reducido period (from 24:00 a.m. to 7:00 a.m.).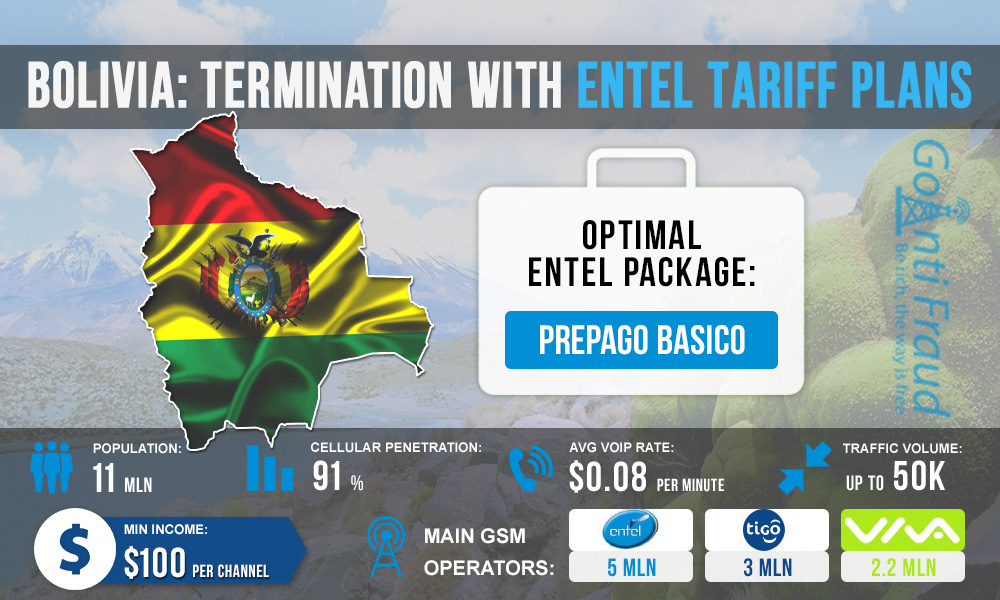 The Entel package for voice communication is called Opcion 1 Paquete Local. It provides a certain number of minutes for calls for a certain subscription fee:
2 minutes for $0.29;
5 minutes for $0.58;
8 minutes for $0.87;
12 minutes for $1.16.
These minutes are too few for terminating traffic. For voice termination, we recommend using the Prepago Basico tariff plan. It connects to the new SIM-card by default. To reduce the cost of calls, make calls during the periods Reducido and Super Reducido. Using this tariff plan, you will be able to make over $100 per channel, with the average lifespan of the SIM-card being 3 days and having the gsm gateway and sim box equipment working for 5 hours a day. The use of multi-channel gateways will allow you to increase your profits.