With an average rate of $0.22 per minute, mobile penetration in Gabon exceeded 192%. This opens up good prospects for making money on termination in this direction. The minimum income of the terminator can be $150 via one channel of equipment if you correctly choose a tariff plan.
Moov is the third mobile operator in the market in terms of the subscriber base. It offers favorable conditions for prepaid customers. The starting package, called Kit Moov Classic, costs $1.74, with the initial credit amounting to the same amount. In fact, your expenses on the purchase of SIM cards are next to nothing. In addition, 100 bonus SMS are provided.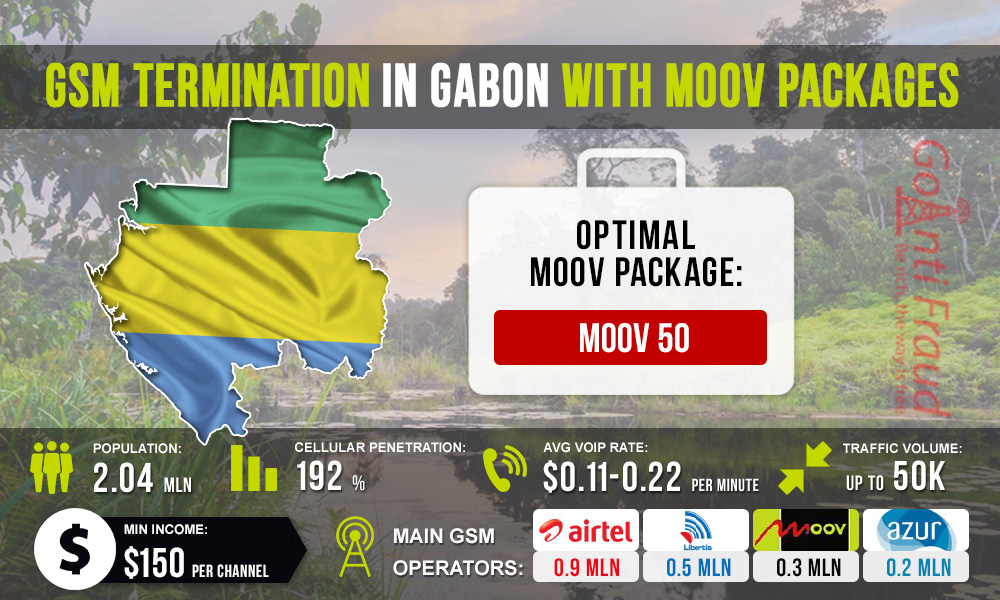 By default, the Moov Prepay tariff plan is connected to the new SIM-card. Using it, the tariff for on-net calls is $ 0.17 per minute, and to the numbers of other operators - $0.26 per minute. Additionally, you can take advantage of other offers from Moov. The switching to these packages is free. Each of them provides certain tariffs on both national and international calls:
Moov 10. The on-net tariff is $0.17. Calls to other networks cost $0.23.
Moov 25. The on-net tariff is $0.16. Calls to other networks cost $ 0.21.
Moov 50. The on-net tariff is $0.14. Calls to other networks cost $0.17.
Moov 50 will be the best choice for voice termination. Using it, you will make a profit of $ 400 via one gateway channel. To efficiently terminate traffic, it is important to use a verified voip termination business model. You can take advantage of the successful experience of GoAntiFraud to launch your startup. We offer newcomers a ready-made turn-key solution, taking into account the characteristics of the customer's region. You just need to start making money, using proven tools to run your business.