QCELL is the second mobile operator in the Gambia market in terms of subscriber base. It provides a good GSM coverage in the country, with prices for services considered the most democratic. You can choose a suitable offer for prepaid customers and successfully use QCell SIM-cards for VoIP termination.
The starter packages of this operator are called Sunu Sim; the cost is 20 cents per piece. At the same time, the subscriber can use the original credit of the same amount. You can buy SIM-cards in the street kiosks, without having to show your documents.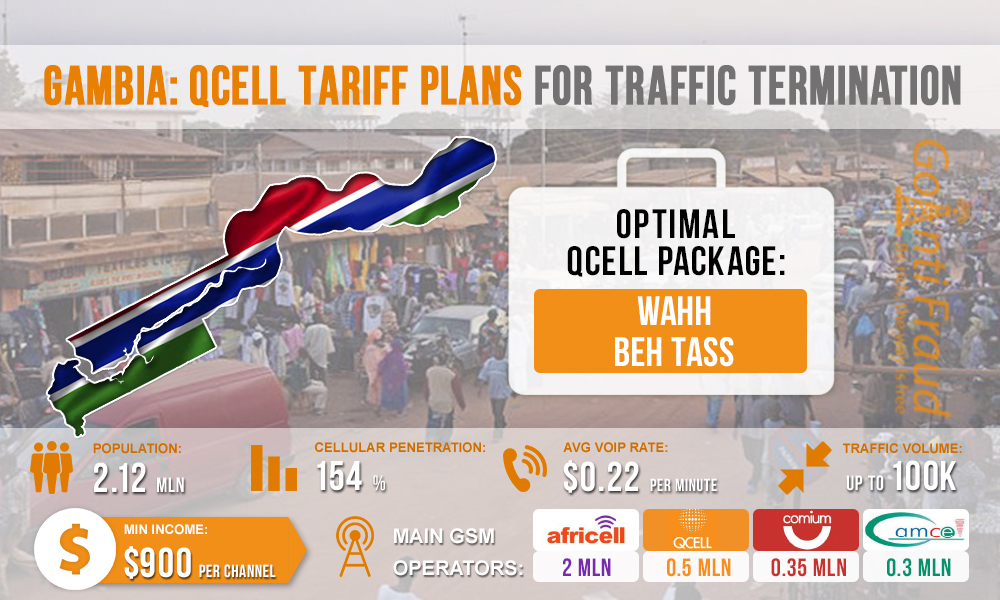 QCell offers prepaid customers cheap calling rates. The cost of on-net and off-net calls is the same: $0.06 per minute. In addition, the operator has several advantageous prepaid offers:
Happy Time. From 6:00 a.m. to 10:00 a.m. subscribers can save on calls to any network. Discount is 50%.
Wahh Beh Tass. The package provides for unlimited on-net calls within 24 hours. The cost of connection is $2.1 per day.
Wahh Beh Tass tariff plan is ideal for voice termination. Using it, you can terminate any number of minutes, while paying only $2.1. Voip rates south africa are high: $.22 per minute on average, accordingly, your income will be maximized. If you terminate for 5 hours a day via Wahh Beh Tass, you will make about $ 1,200 via 1 channel.