Africell is the largest mobile operator in the Republic of the Gambia. The number of connections to its network exceeds 2 million. Africell SIM-cards will be a good choice for profitable termination of VoIP traffic. Choose a profitable tariff plan to get the highest possible earnings.
Africell SIM-cards can be purchased at any street kiosk without documents. The cost of one starter package is minimal: as little as $0.2. At the same time, you immediately get a credit for the same amount to your account. Accordingly, your costs for purchasing new subscriber numbers are next to nothing. Top-up vouchers are available at 25 Gambian dalasis, which is about 50 American cents.
Africell has a promotional offer for prepaid subscribers: Crazy SIM Offer. Using the offer, you can buy a SIM-card for 5 dalasis (10 cents). In this case, you will be provided with an initial credit of $0.2 and 15 bonus SMS.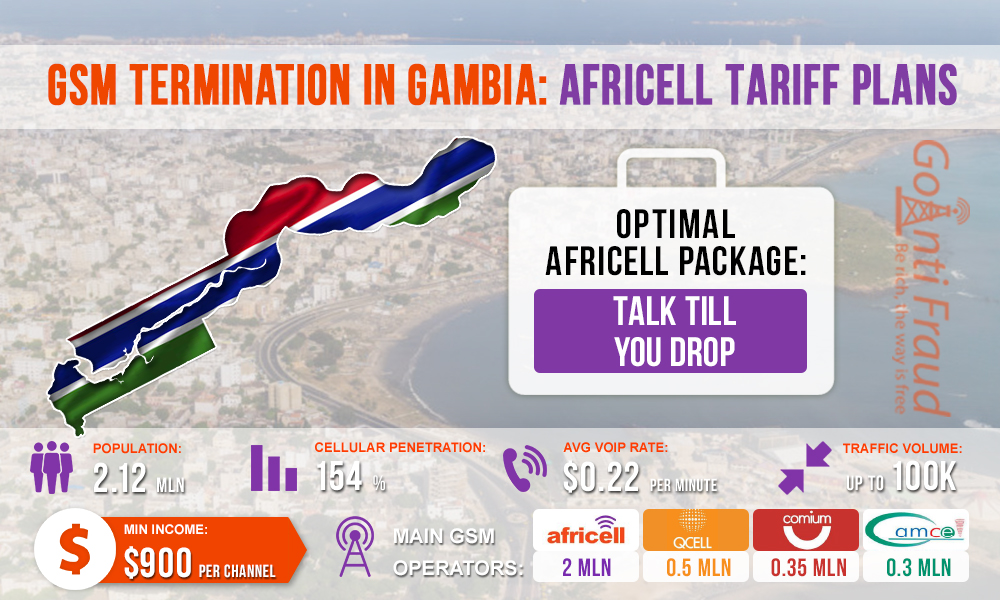 To minimize the cost of outgoing calls, use the Talk Till You Drop offer from Africell. This package provides for unlimited on-net calls from 6:00 a.m. to 10:00 a.m. Call rates for voip in the Gambia are $0.22 per minute, on average. Terminating 3 hours a day, you will earn at least $700 via each VoIP equipment channel.
You should keep in mind that anti-fraud systems are working hard in the countries that have a high average rate, monitoring the GSM termination of voice traffic. In order not to fall under the suspicion of the operator and avoid mass locking of SIM-cards, it is important to correctly set up the logic of work and use professional software. GoAntiFraud experts will help you reduce blocking of your SIM-cards so that you get maximum profit.