Guinea, an African country, attracts with a high rate and a well-developed sector of mobile communications. In addition, the country's population is more than 12.9 million, which means that a lot of voice traffic is concentrated there. In order to make money on termination, it is important to choose an advantageous tariff plan that a major GSM operator has to offer.
The leader of the local mobile market is Orange, which provides excellent GSM coverage throughout the country. Its prepaid SIM-cards are called Orange SIM Prepayee and cost only $0.56. In this case, the subscriber gets a welcome bonus for the same amount. Accordingly, you do not lose anything when you buy new SIM-cards because you get the money spent back immediately after the number is activated.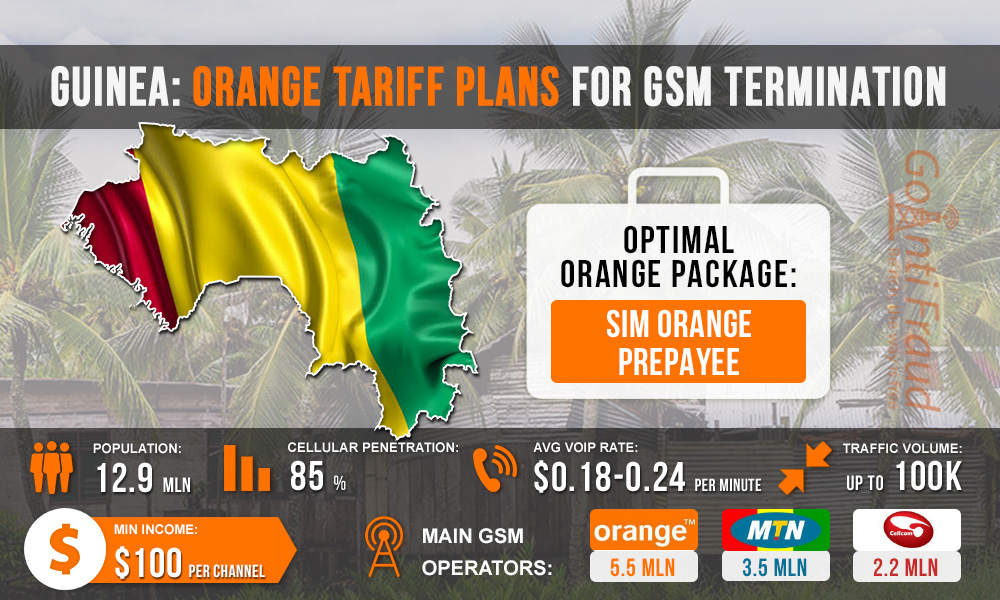 Orange's tariff on local calls is $0.05 per minute for on-net calls and $ 0.07 per minute for off-net calls. The operator does not have other offers, such as combined packages, etc. but the services it provides are cheap. These tariffs on local calls are suitable for a profitable voice termination in Guinea.
When you have your beronet gsm gateway or other VoIP equipment running for 5 hours a day, your minimum earnings via Orange SIM Prepayee will be $700 per port. The more channels are involved in terminating traffic, the more money you make. It is important to ensure a sufficient number of minutes, in order to avoid the idle capacity. GoAntiFraud provides its customers with reliable originators that provide large amounts of traffic in different directions.