Tuenti is a virtual cellular operator in Guatemala, which uses Movistar's network. This is the first major MVNO in the country. It provides good GSM coverage and affordable communication rates. You can use Tuenti starter packages to work in the GSM termination area.
Tuenti SIM-cards are called Chip Tuenti and it can be obtained free of charge in any branded store, by subscribing to the COMBO 5GB package for $13.49. You need to register online at the operator's website beforehand. In fact, you buy a SIM-card for $13.49 while you can immediately use the COMBO 5GB tariff plan, designed for 30 days. It provides unlimited calls to Tuenti network, as well as 125 minutes for calls to the numbers of any operators, plus 5 gigabytes of Internet traffic. Top-up scratch cards can be purchased in pharmacies, supermarkets, and at gas stations.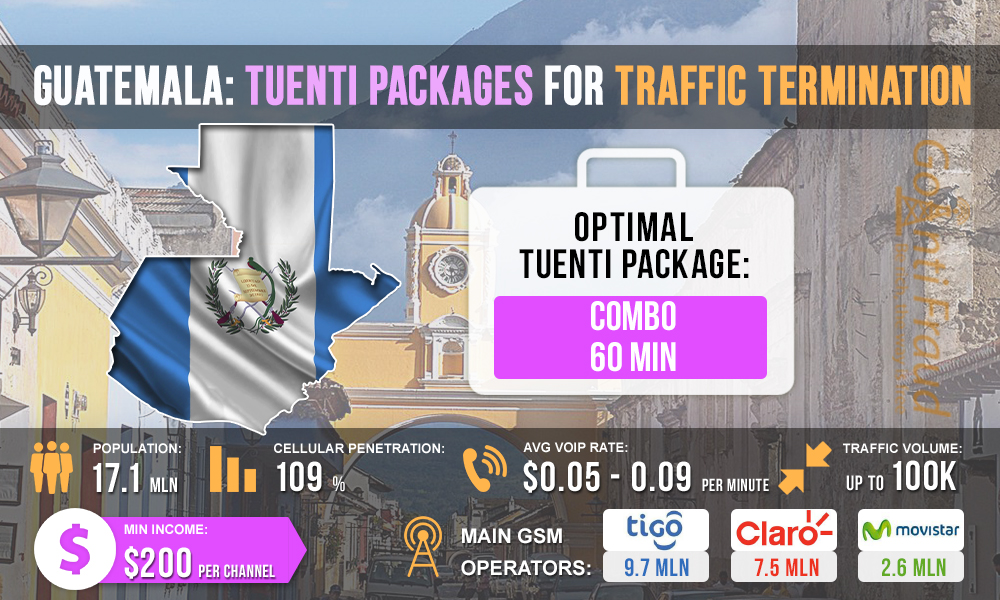 With the starter package for $13.49, the bonus minutes will cost the terminator $0.1 per minute of the call, which is quite expensive, with an average of $0.05- $0.09 per minute. But you can additionally use one of the COMBO packages that offers voice minutes:
30 MIN. The cost is $1.3. The validity period is 5 days.
60 MIN. The cost is $2.6. The validity period is 10 days.
The best option is COMBO 60 MIN. Using it, one minute of the outgoing call will cost $0.04. Using the capabilities of CHIP TUENTI and COMBO 60 min, you can make about $100 via one gsm gateway alibaba port, with an average lifespan of one SIM card being 7 days. If you need to make on-net calls, you can use the unlimited offer provided by COMBO 5GB.