Mobitel is the second largest operator of Sri Lanka's mobile market in terms of the subscriber base. This operator has excellent GSM coverage in the country, so that a stable signal is available even in remote areas. Mobitel start plans is a good choice for earning money on termination in Sri Lanka.
You can buy Mobitel SIM-cards for about $3 each. The price for the start plan seems quite high, but the operator has low rates for cellular communication. By default, a tariff plan called Basic is connected to a new prepaid SIM-card. It provides the following prices for outgoing calls:
Within the Mobitel network — $0.009 a minute.
To the numbers of other operators — $0.009 a minute.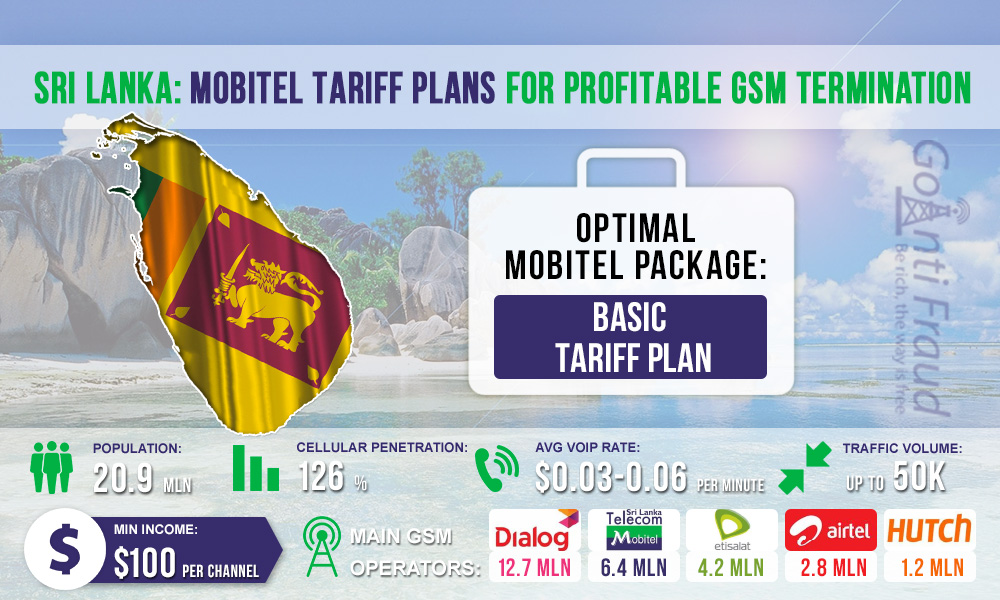 Such minimum tariffs are ideal for profitable termination, because the average mobile voip call rates to sri lanka are from $ 0.03 to $ 0.06. If your equipment will work for 300 minutes a day, your profit will be about $150 from one port. Use multichannel GSM gateways to earn more.
To make sure that the calls termination is the most efficient, it is important not only to bypass the anti-fraud system skilfully, but also to top up the SIM-cards timely. Late top-up often leads to down-time of the capacity and causes decrease of your earnings. This is especially true for those who work with a large number of SIM-cards. Take advantage of the features of the GoAntiFraud service! Our software solution allows you to automatically top-up the SIM-cards in order to earn as much as possible.