GSM operator Etisalat is the third provider of cellular communication services in Sri Lanka. They have a good coverage in the country, including remote areas. Choose an optimum tariff plan from Etisalat to successfully earn on voice traffic termination in Sri Lanka.
The operator's SIM-cards are sold in the Etisalat brand stores and other outlets in Sri Lanka. At the airport you can buy the so-called "tourist's SIM card". It is available in 2 kinds of start plans - $6.4 and $8.3 each, which include various bonuses. But, since those bonuses are basically for the minutes of international calls and for Internet traffic, it's better to buy a standard SIM-card for $1 for termination purposes. Such start plans are called New Super Sim, they are represented in 2 versions - with per-minute and per-second billing.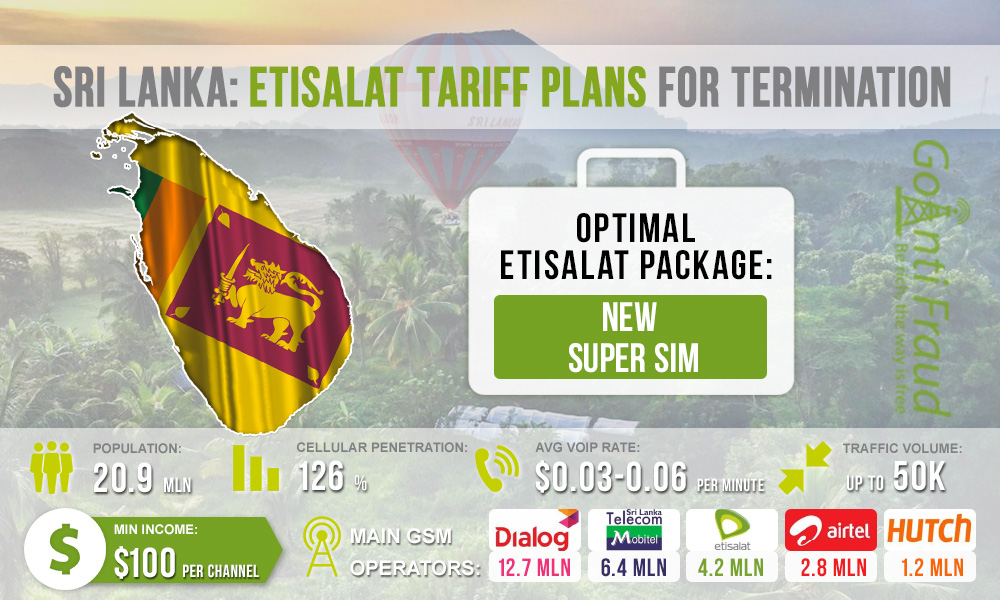 For GSM termination, choose the New Super Sim plan with a per-minute billing. This plan provides a call tariff for of $ 0.009 per minute (for both, within the network and to the numbers of other operators). With this plan, you will earn at least $ 100 from each channel (depending on the traffic rate and the number of channels in operation). Calculation of approximate profit is made considering that the goip gsm gateway 8 port or another gateway will terminate the calls for 5 hours a day. The more VoIP equipment is located in one location, the higher your income will be.
Do not forget to protect your SIM cards from the operator's anti-fraud systems, in order to prevent their frequent blocking. Use effective GoAntiFraud tools to reduce the risks of SIM-blocking.