In Oman, the Internet services sector is fairly well developed, with a broadband penetration rate being 74% (3.4 million users). Connection to fiber-optic networks is available in the country. But for a stable earning on termination, you will need not only a reliable, but also inexpensive Internet connection.
To date, the country has several most popular Internet providers - Awasr-Oman, Omantel, Oman Broadband, etc. Let's discuss the tariffs for Internet services in Oman on the example of service provider Awasr. The provider provides access to the broadband Internet using Fiber-Optic technology. A special range called Fibrenet Home includes several packages:
Basic. Subscription fee - $75 per month, speed - 20 Mbit/s
Plus. Subscription fee - $104 per month, speed - 50 Mbit/s
Ultra. Subscription fee - $182 per month, speed - 150 Mbit/s
Giga. Subscription fee - $387 per month, speed - 1 Mbit/s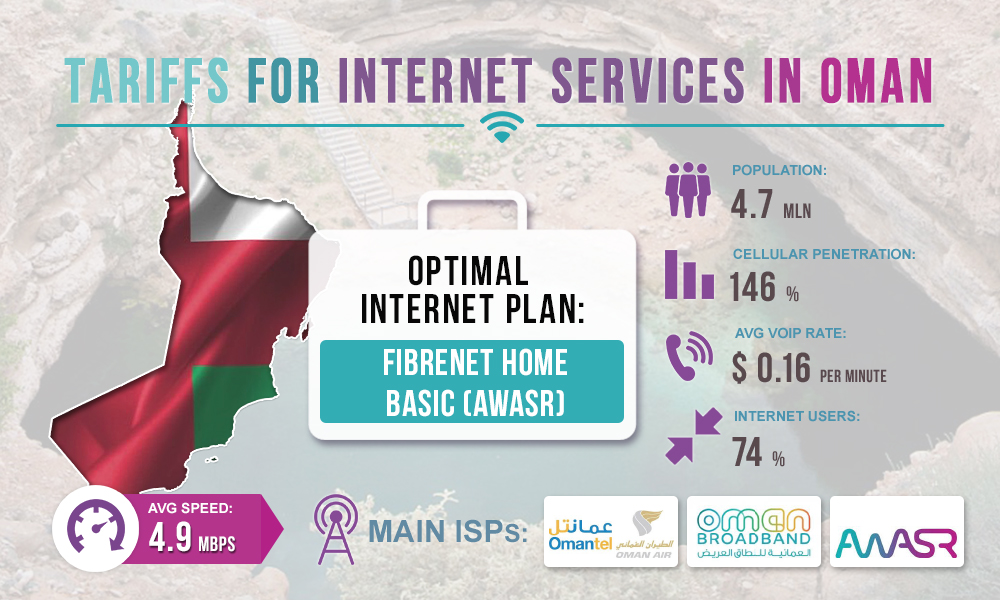 As you can see, the prices for Internet services in Oman are quite high. But at the same time, the quality of the service corresponds to the price. The fiber-optic Internet is considered to be the most stable, besides, you get a high access speed.
The most preferable Internet plan for voip gsm gateway grandstream operation in Oman is Fibrenet Home Basic from Awasr. You will spend $75 per month and you will be able to use the Internet at a speed of 20 Mbit/s. It will be fast enough to effectively operate the gateway on a large number of channels. The minimum earnings in Oman would make $200, so the Internet expenses will not make you operate at a loss. Also, before May 15, 2018, you can take advantage of a special offer from Awasr - connect one of the Fibrenet Home plans and get a free Internet access for the first month.