Maroc Telecom is the largest mobile operator in Morocco, with the best GSM coverage in the country. Buying prepaid SIM-cards of this operator, you can get a good income for terminating VoIP traffic - from $300 on each port of the gateway. The main thing is to choose a profitable tariff plan for operation.
SIM-cards are sold at a price of $3, sometimes with a small loan. Maroc Telecom has many offers for prepaid subscribers:
Forfait Particulier. This range includes several plans: 10H (600 minutes for calls for $21), 25H (1500 minutes for $25), 32H (1920 minutes for $31), 40H (2400 minutes for $40).
Forfait Maitrise. This range includes the following plans: 12H (720 minutes for $16), 20H (1200 minutes for $21), 25H (1500 minutes for $27), 32H (1920 minutes for $33), 40H (2400 minutes for $42).
Illimite Mobile. The plan provides for unlimited calls to any national numbers, the cost of connection is $ 42.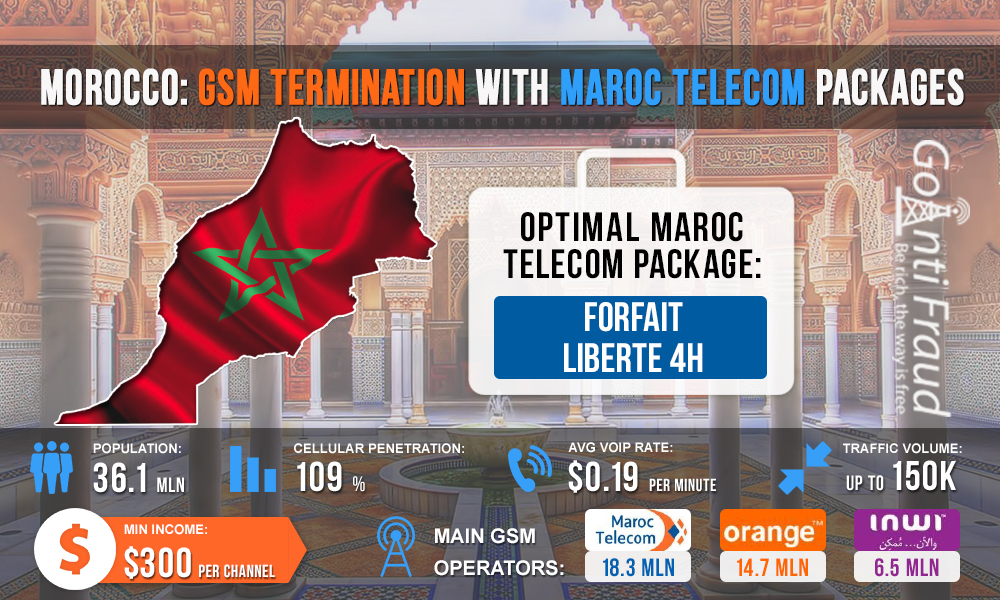 Forfait Liberte. Includes 3 plans which differ in the number of bonus minutes and megabytes: 3H (180 minutes for $6.2), 4H (240 minutes for $10.4), 9H (540 minutes for $10.4).
Abonnement Classique. The connection fee is $12.6, tariff for calls (to any national numbers) is $0.19 per minute.
The best choice for profitable traffic termination will be Forfait Liberte 4H tariff plan. It provides an optimal number of bonus minutes, which you can use before the SIM card is blocked by the anti-fraud system. A minute of an outgoing call will cost about $0.04 with this plan. With the voip gsm gateway grandstream running for 240 minutes a day (with pauses between calls and when the cards are operated one at a time), the terminator's earnings will be about $600 (from one equipment port).