Flow is one of the two operators operating in the African country of Anguilla. Until 2015, the company operated under the name Lime, but was renamed in the course of re-branding. The operator Flow owns 50% of the local mobile market, so you can successfully use its SIM-cards for traffic termination.
A prepaid SIM-card of Flow costs about $9 and you will be required to show your passport to buy it. However, you can ask the dealers who sell the cards for termination or look for start plans in the streets from the local merchants. Standard call rates for prepaid customers are $0.25 per minute within the network and $0.35 per minute for calls to other operators' numbers. With an average rate in Anguilla of $0.11-$0.12 per minute, it is very expensive. But there are many prepaid offers on more favorable terms.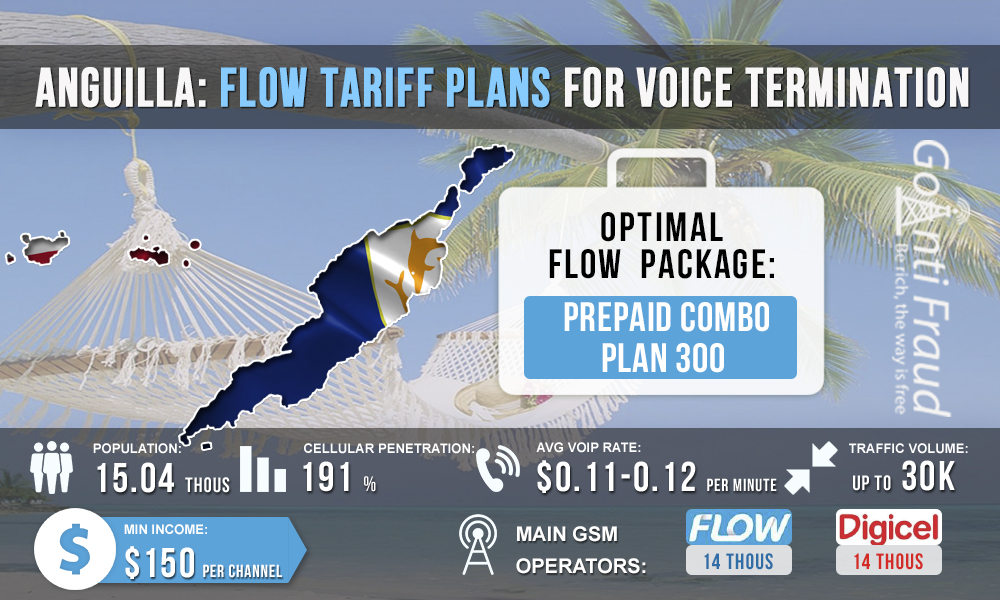 The Flow operator has a PREPAID COMBO PLANS range that includes several combined plans (bonus minutes + mobile Internet traffic) for a fixed subscription fee:
XS. 50 local minutes for $1.4, duration - 1 day.
S. 100 local minutes for $5.9, duration - 3 days.
M. 300 local minutes for $11, duration - 7 days.
L. 600 local minutes for $14.8, duration - 7 days.
XL. 1000 local minutes for $37, duration - 7 days.
PREPAID COMBO PLAN is a suitable tariff plan for termination. It is designed for 300 minutes - so you will not overload the channels but you will still be able to make a decent living. A minute of call will cost you $0.03, with your equipment running for 5 hours a day, you will earn about $200 from each port of the gateway). To avoid blocking of SIM cards and gsm gateway detection, we recommend using the GoAntiFraud service tools.