Movistar is the brand of the Spanish company Telefonica, under which the third largest GSM operator in El Salvador operates (its market share is about 24%). The coverage of this supplier is somewhat less than that of its main competitors, Tigo and Claro, but it has profitable offers for prepaid subscribers. You can take advantage of them when doing your GSM termination business.
SIM cards of the operator Movistar cost $1 to $3 in El Salvador, while you immediately get an initial loan of $2 on your account, which is valid for three days. They can be bought either in official shops of the service provider or from street vendors or in kiosks.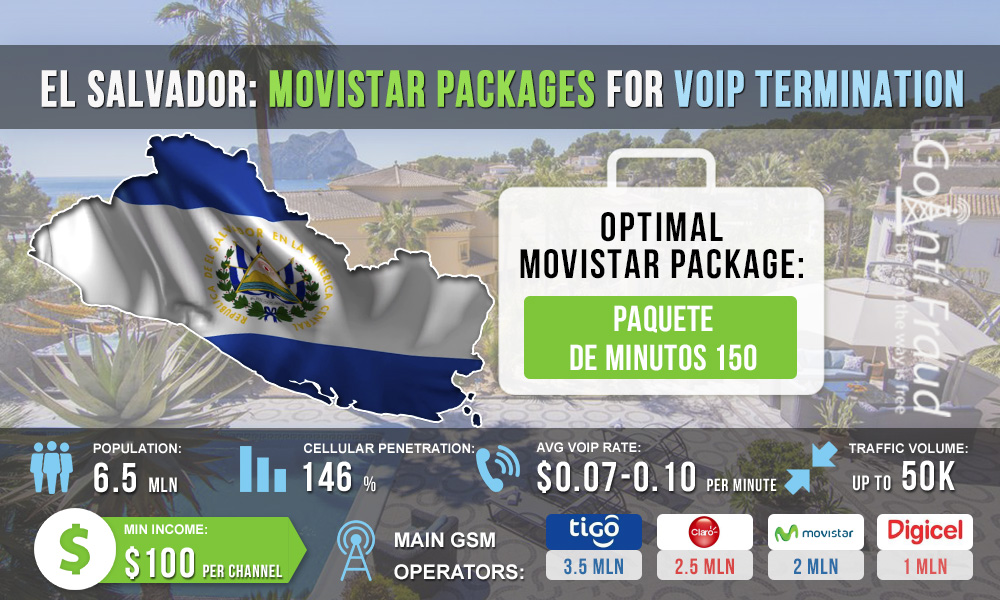 For prepaid subscribers there are the following offers for cost-efficient calls:
Llamadotos. Available in two options - day and night. The first one for $0.5, provides 30 minutes for calls from 6 am to 9 pm; the second one for $0.29, provides 30 minutes for calls from 9 pm to 6 am.
Paquetes de Minutos. There are also two options of a package - for 150 minutes and for 60 minutes. The first costs $1, the second - 60 cents. The validity of each package is 2 days.
An excellent solution for termination would be the Paquete de Minutos tariff plan for 150 minutes. With this plan one minute of a voice call will cost only $0.006. Thus, running your gsm gateway dongle for 150 minutes a day, you will earn at least $150 (only from one channel of your VoIP equipment). Operating a large number of channels, you can significantly increase your income on traffic landing.