Latin America, including Peru, attracts many entrepreneurs working in the field of voice termination. In addition to the four major cellular operators, MVNO (virtual providers of mobile services) also operate in the country. They have pretty good coverage and the SIM-card of such operators can also be used for profitable VoIP GSM termination.
The first MVNO in Peru is Tuenti, which uses the Movistar network to provide its services. This provider is targeted at urban youth in Peru. Start plans Tuenti, which they call "chips", can be obtained free of charge in Coolbox stores. Officially, you need to present a Peruvian passport for this, but in reality, this rule does not apply to all outlets.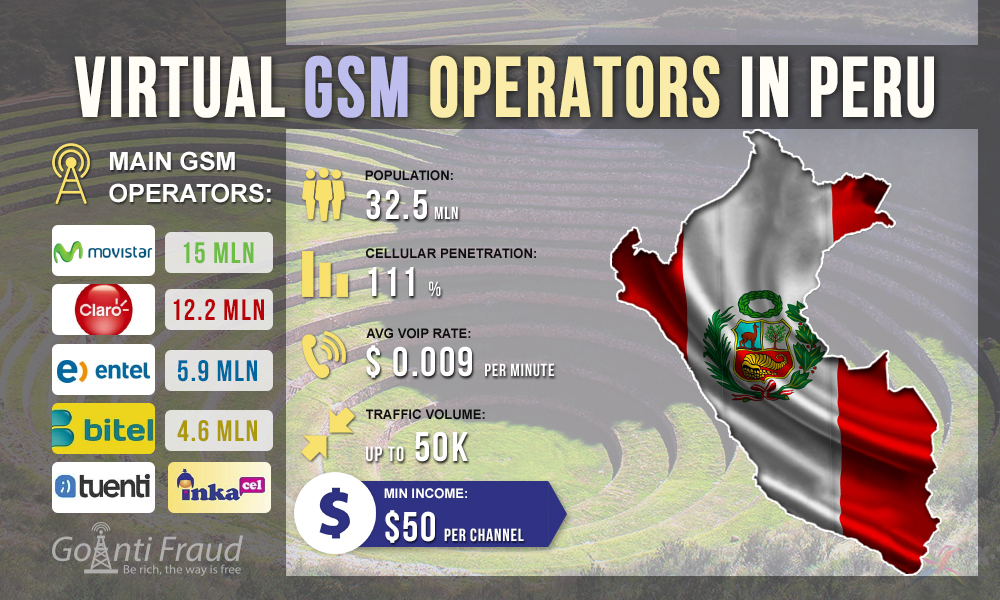 The second MVNO in Peru is Inkacel (officially Virgin Mobile), which also uses the Movistar network. Start plan Inkacel, or chip, is sold for $4, but you immediately get $1.5 on your account. Not in all stores selling SIM cards of this operator they demand to show your passport, as in the case of Tuenti. If you are asked for this, you can always find Inkacel start plans in the black market.
Before placing gsm gateway huawei in Peru, decide which SIM cards you will use for termination. It is important that they are inexpensive and at the same time provide favorable tariffs for outgoing cellular communication. The cards of virtual operator Tuenti can be obtained free of charge or at the lowest price, while it has a range of profitable packages Combo, within which there are affordable tariffs for calls for prepaid customers.