The Movistar brand belongs to Spanish company Telefonica. It is the largest mobile operator in Peru, whose services are enjoyed by more than half of the local residents. It has the best GSM coverage in the country, but at the same time the highest prices for cellular services. Once having chosen the most suitable call plan, you can earn good money on traffic termination with Movistar cards.
The cost of one SIM-card of this operator at a shop is about $2.4. However, it is not a good idea to buy start plans in official stores, it is better to ask street vendors, since you will be required to produce your ID to buy one. As for the standard rates for outgoing calls, they are quite high - $0.15 per minute. With tariffs like that, the terminator will work at a loss. Fortunately, there are several advantageous prepaid offers:
Minutos Ilimitado Todo Operator. Unlimited, both inside the network and to the numbers of the other operators. Duration - 3 days, cost - $1.5.
Minutos Ilim Todo Operator. Unlimited, both inside the network and to the numbers of other operators. Duration - 1 day, cost - $0.9.
Voz/Internet 60 min + 300 Mb. For $3, the subscriber gets 60 minutes for calls to any numbers and 300 MB of mobile Internet traffic. Validity term of this call plan is 5 days.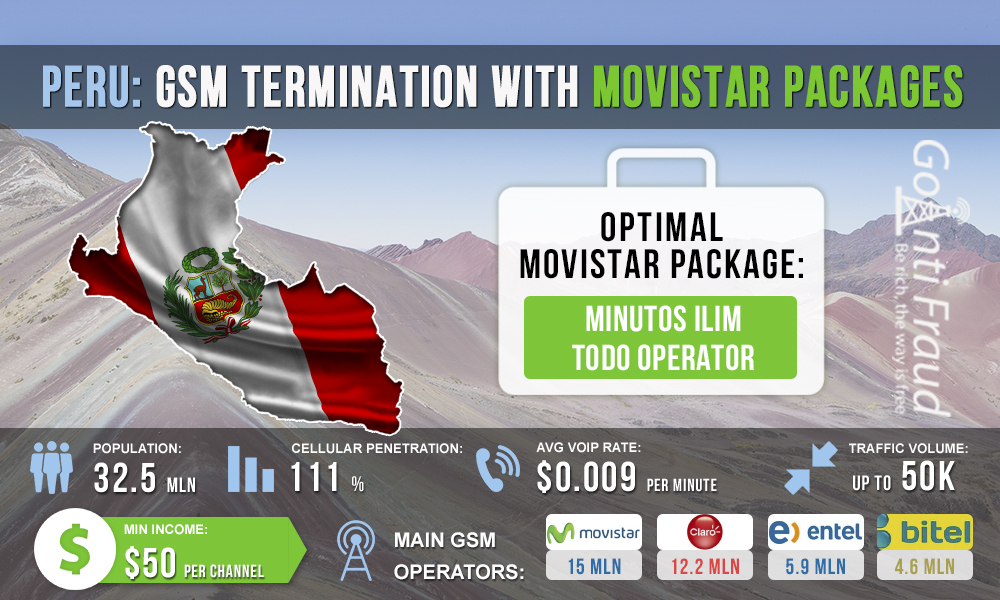 Minutos Ilim Todo Operator tariff plan will be the best choice for earning money on termination. If gsm gateway cli is running for about 8 hours a day, the minute of call will cost $0.001. The fact that this is a one-day unlimited call plan plays into our hands - the operator is ready to the fact that the subscriber will make many calls during one day to have time to use unlimited possibilities. Thus, the card will not be blocked immediately. Approximate earnings of the terminator with the Minutos Ilim Todo Operator plan will be $50 from each port of the working gateway.