The population of the Baltic country of Lithuania totals about 2.8 million. There is a high level of emigration in Lithuania; since 2004, more than a million people have left the country. Thanks to emigration, large streams of international voice traffic are being generated in the country for the reason that the residents who have left the country call their relatives via mobile. To-date, the cellular penetration rate in the country has reached 140% (about 4 million connections). Well-developed mobile market and constant influx of international traffic make it possible to earn well on termination of calls.
There are 3 GSM operators in Lithuania, each of which provides prepaid range of services under a different brand:
Telia (prepaid brands — Ežys and Extra);
Tele2 (prepaid brand — Pildyk);
Bite (prepaid brand — Labas).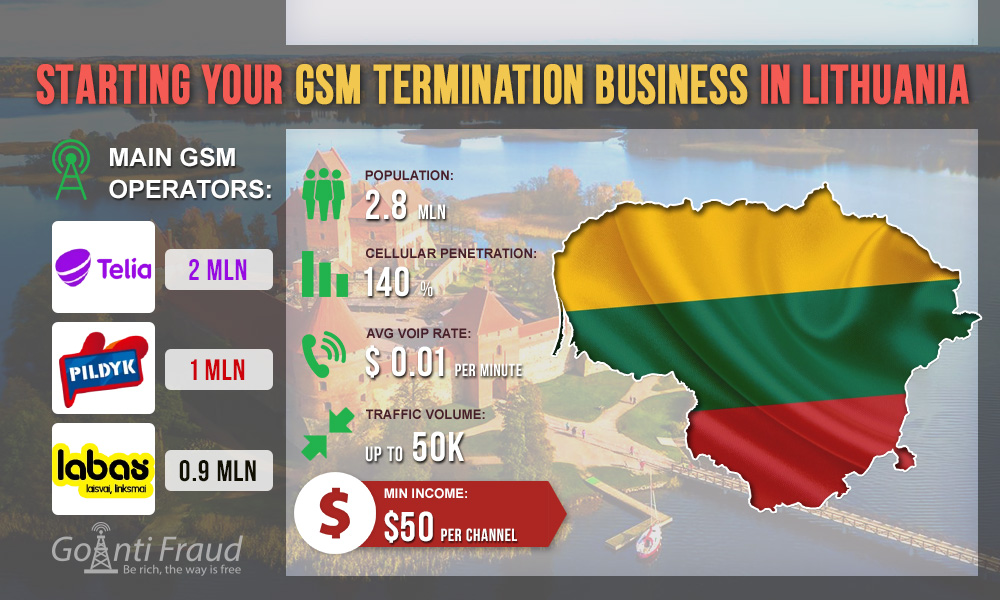 The prepaid cellular communication tariffs of Lithuanian operators are considered to be ones among the lowest in Europe, which is good for a terminator with an average VoIP rate of $0.01 per minute. You can buy SIM-cards in various retail outlets, you do not have to go to the mobile operator company store and show your documents.
The starting plans are available in supermarkets, gas stations, kiosks, post offices and even in cafes. You do not need to show your passport or register a purchased SIM-card. As of August 2018, the cost of one new card starts from 1 euro. Moreover, many operators provide an initial loan on the card for the same amount. Having installed your equipment and voip monitoring software in Lithuania, you can earn at least $50 from a channel.