Zain is one of the largest operators in the Middle East and Africa. It covers Lebanon, Sudan, Iraq, Bahrain and Saudi Arabia. More than 45.6 million users in all countries use its services. The company is rapidly developing. Zain came Saudi Arabia in 2008 and gained 2 million subscribers in 8 months.
To date, the company is the second largest operator in Saudi Arabia in terms of subscribers after STC and has 9,007,000 users. Experienced terminators, who know what VoIP is, can easily install their own equipment in the country and use Zain cards for GSM-termination.
The most advantageous packages are Zain Max, Kareeb Package and Khateer Prepaid. The packages propose $0.004 to $ 0.09 a minute. The price depends on the lifespan of a SIM-card and the selected package. Typically, in these countries the lifespan of the card lasts from 4 to 7 days.
If you are just starting your way in GSM termination - start it with GoAntiFraud! For beginners, we offer a complete
NewBusiness
solution that includes a set of necessary VoIP equipment and software for automation of business processes and proven tools to protect against AntiFraud systems. Over 2,000 customers in 31 countries have succeeded in the GSM termination using our service. You can become one of them!
After you have bought Zain Max, you can top up your account for $2.67 or $5.33. In the second case, the operator allocates additional $26.66 to the phone number. This is a 500% bonus on conversations. As a result, the terminator will receive $32 and an additional 5 hours of free calls to his SIM-card within a week. Based on 5-7 day lifespan of the SIM-card, GSM-terminator will get a cost of $ 0.004-0.008 a minute.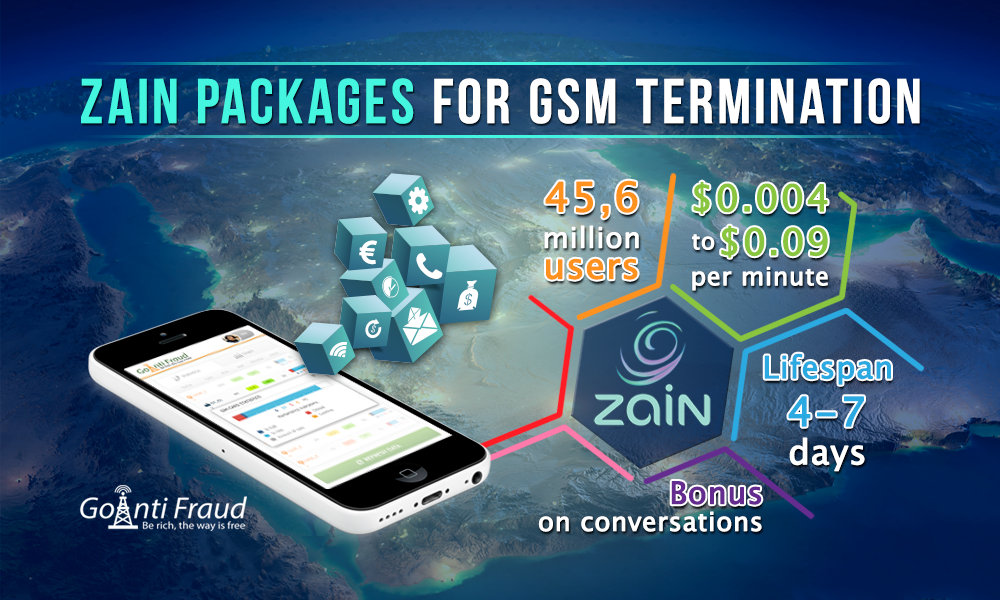 In addition, Zain Max offers unlimited minutes and point scoring. This tariff plan provides unlimited calls for large top-ups. Therefore, it would be difficult the operator's AntiFraud to identify SIM-cards used for termination, so you can install and configure a 16-port VoIP gateway in Saudi Arabia.
Khateer Prepaid offers $0.078 a minute, which is a bit more expensive. Kareeb Package is even more expensive. One minute along with a SIM-card would cost you $0.09 a minute. However, using the proper settings, you can extend the lifespan of cards in these packages for another 3 days, which reduce the cost of VoIP GSM termination.
At the same time, you can control VoIP-system remotely via GoAntiFraud. For example, you can replace and top up SIM-cards by connecting the SIM-bank, with the equipment installed in different locations that are most suitable for termination.
More about the traffic and the price of GSM termination in Saudi Arabia here.
Complete NewBusiness solution
from GoAntiFraud is your successful start into the GSM termination! We provide ready-business on a turnkey basis, which includes a set of GoIP equipment by EjoinTech or ChinaSkyline, convenient software to computerize the operation and efficient tools to protect the SIM-cards from the lock. We also provide qualified 24/7 technical support at every stage of your business. Our business model is based on the successful experience of more than 2,000 customers in 31 countries!