To start a successful voice traffic termination business, you need a VoIP system that includes two important components - hardware and software ones. The hardware component is the equipment that will be required for operation (GSM gateways, SIM-bank, Raspberry Pi3). The software component is special software, without which the GSM termination business will not bring profit.
Varieties and functions of software for GSM termination
To work in the field of call termination, the following software is required:
SIM-server. It allows to remotely control the gateways in conjunction with a SIM bank – virtually load the SIM cards to and unload from the gateway; load/unload the cards within different slots of one gateway, and move the SIM cards between different gateways.
Software for creating behavior scenarios of SIM-cards. Professional software allows to effectively simulate human behavior in GSM networks, creating behavior scenarios for SIM cards that are as close to "human" as possible. This can be a SIM card operating schedule (number of calls, duration of calls, pauses between calls), a scenario for the card movement around the city, etc.
Software for workflow automation. Specially developed software can be used to automate daily routine processes including topping up the SIM cards, balance checking and connecting bonuses.
SIM-cards operation monitoring software. Software solutions that allow monitoring the GSM gateways operation from anywhere in the world.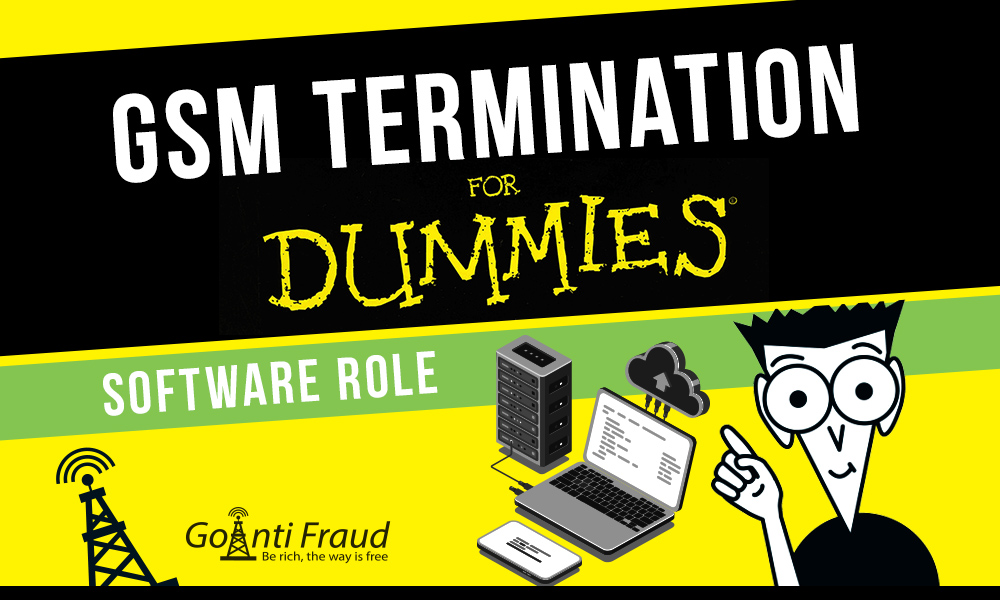 Developing software solutions from GoAntiFraud
GoAntiFraud provides professional software for effective GSM Termination. With its help, each client can remotely control GSM equipment, create behavior scenarios for SIM cards, thereby reducing the SIM block, monitor the cards operation and automate a part of the work processes.
But we understand that the functionality of the service does not always 100% meet the individual needs of the user. Therefore, our development team is ready to implement any of your ideas about creating software for termination.
If you need an individual software solution for working in GSM termination, tell us about your ideas or provide the Terms of Reference for our development department. We will be happy to assist you in creating voip gateway software or any other termination software.