Liberia, with its growing demand for call termination services, offers an intriguing opportunity in the world of VoIP. Transit companies are consistently sending substantial traffic to this West African nation, averaging between 12,000 to 25,000 minutes. The current value of a VoIP minute in Liberia stands at $0.19, making it an attractive market for terminators.
Liberia, despite its potential, remains one of the poorest countries in West Africa and ranks third in poverty levels across the continent. This is largely attributed to the civil war that ravaged the nation from 1999 to 2003, resulting in economic and social challenges. With an unemployment rate of 85%, one of the highest in the world, many Liberians have sought opportunities abroad, leading to increased international call traffic as they stay connected with their homeland.
As of today, Liberia has a population of approximately 4.3 million people, with 3.6 million utilizing GSM communication. This translates to 87 mobile subscribers per 100 inhabitants, positioning Liberia at 136th place in the world in terms of mobile phone penetration.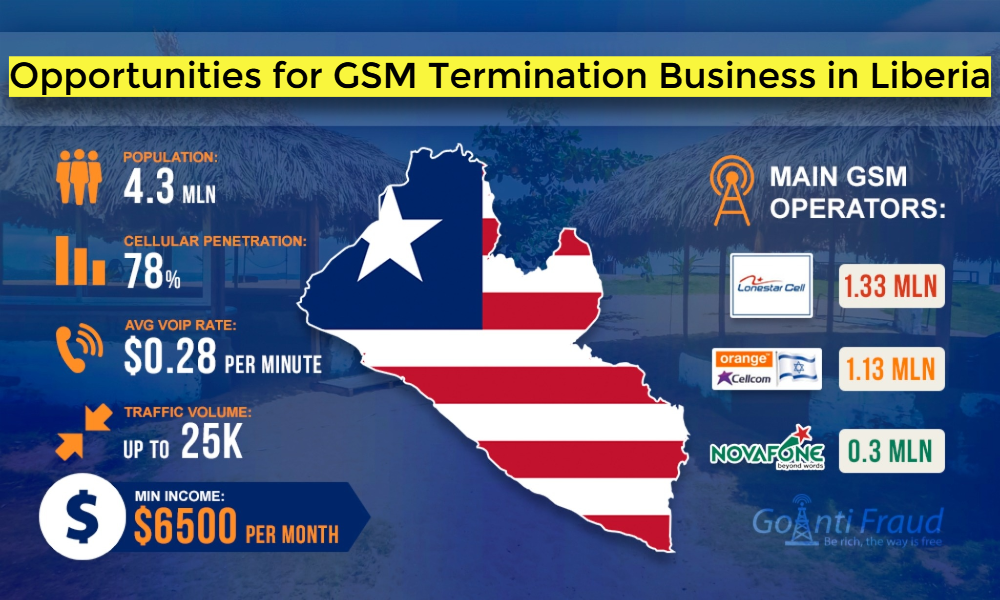 Liberia's telecommunications landscape is served by four GSM operators:
Lonestar Cell MTA (1.3 million users)
Orange (Cellcom) (1 million users)
Novafone (0.3 million users)
Libtelco (0.05 million users)
While standard tariffs for local calls through prepaid packages hover around $0.15 per minute, more attractive offers can be found from GSM operators, allowing calls within the country at rates as low as $0.0011 per minute. By dedicating 5 hours a day with an 8-port GSM gateway, operators can potentially earn around $6,500 per month in Liberia.
With the evolving landscape of Liberia's GSM termination market, it's essential for terminators to stay vigilant and continually adapt to market dynamics and emerging security challenges.